January 19, 2018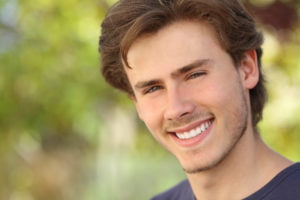 Porcelain veneers can give you the gorgeous, magnetic smile that you've always wanted. This cosmetic treatment has helped countless people, celebrities and normal folks alike, to enjoy the confidence that can only come with a set of perfect pearly whites. You might wonder, though, if there is any fine print that goes along with veneers. Exactly what problems can they fix, and are they durable enough to stand up to everyday life?
What Can Veneers Fix?
Veneers are thin pieces of porcelain that your dentist attaches to the fronts of your teeth, thereby disguising all of your smile's little (and big) imperfections. They can cover:
Discoloration
Cracks and chips
Small gaps
Minor crookedness
Most commonly, veneers are used to address problems on your top row of teeth, but that's only because they're the teeth that other people notice the most. If you're unhappy with the way your bottom chompers look, you can get veneers to freshen up their appearance as well.
How Many Veneers Should You Get?
Exactly how many veneers you should get depends largely on what you want your smile to look like. If there is just one tooth whose appearance bugs you, you might just need a single veneer to cover it up. However, if you're looking for a head-turning makeover for your grin, you may need 4 – 8 veneers. Your dentist will talk with you about your goals and help you decide on the right number of veneers.
How Durable Are Veneers?
Veneers are some tough cookies; if you care for them well, they may last up to 15 years before you need to get them replaced. To make them endure as long as possible, be sure you:
Don't chew on very hard things, like ice, which could cause the veneers to break.
Maintain excellent oral hygiene. Not only will this keep the teeth beneath the veneers in good shape, but it may also help to prevent the veneers from getting stained.
Limit your consumption of foods and drinks that might discolor the veneers, like coffee, wine, and berries.
What if a Veneer Breaks or Comes Off?
Despite your best efforts to maintain your veneers, it may happen that one breaks or comes off altogether. If a veneer breaks, chew carefully around that tooth; you don't want the veneer's edge to cut your tongue or cheek. Call your dentist to make an appointment so you can get your smile repaired as soon as possible.
If a veneer comes off altogether, try to hold onto it; your dentist might be able to reattach it. Your exposed tooth might be a little extra sensitive while you're waiting for your dental appointment, but it is unlikely to suffer any harm while it is uncovered.
Porcelain veneers transform smiles! Your cosmetic dentist would be happy to talk to you about whether they're right for you.
About the Dentist
Dr. Bob Koenitzer is a Petaluma native who is passionate about his profession. He derives great satisfaction from helping his patients fall in love with their smiles. If you have questions about porcelain veneers, you can contact Dr. Koenitzer's team at 707-766-6666.
Comments Off

on Get the Facts About Porcelain Veneers in Petaluma
No Comments
No comments yet.
RSS feed for comments on this post.
Sorry, the comment form is closed at this time.