Restoring Petaluma Smiles with Restorative Dentistry
People lose teeth for a variety of reasons, including dental decay, gum disease, and trauma. Depending upon the cause of tooth loss and the number of teeth lost, you have several treatment options available to replace them.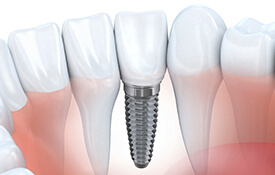 Dental Implants
A titanium replacement root placed in the jawbone forms a strong foundation for one or more replacement teeth. If only one tooth is missing, we can use an implant to anchor a single crown. This conservative treatment option does not damage the teeth on either side of the implant.
Dental implants never decay, they are very resistant to gum disease and they deliver a natural appearance. When many or all of your teeth are missing, implants can be used to secure a full or partial denture. Implants provide life-changing benefits for denture wearers. You'll smile, eat, and speak with confidence when you know your replacement teeth are strong and secure.
---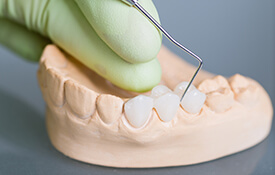 Dental Bridges
A bridge is a tooth replacement alternative that is permanently cemented in your mouth. Bridgework looks and feels natural. Typically, bridges are used to replace one or more missing teeth in a row. The teeth on either side of the gap are prepared (and later reinforced with dental crowns), an impression is made, and a dental laboratory fabricates the bridge. The entire process takes about two weeks.
---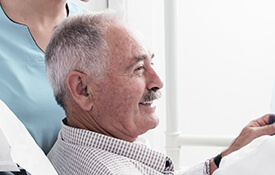 Partial Dentures
A partial denture is essentially a removable bridge. Partials represent the most economical way to replace multiple missing teeth. They utilize healthy remaining teeth for support and stabilization. Most patients tolerate partial dentures well, in general. However, they do take some time to adjust to. Partials are fabricated over several visits to ensure precise fit and comfort, as well as the best possible appearance.
---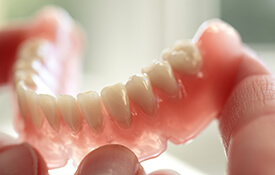 Full Dentures
Full dentures are a good option for patients who have lost all their teeth. Some denture patients have no problems with their dentures, while others struggle with retention and comfort. The differences are often based on physical characteristics. Denture wearers who still have strong, tall ridges of bone where teeth used to be, along with good saliva flow, tend to be more comfortable with dentures than patients whose dentures rest on flat surfaces.
Fortunately, dental implants allow even the most challenged denture wearer to achieve a comfortable result. Implant-supported replacement teeth snap into place for a strong, stable fit, even in patients who possess very little jawbone tissue.