Brighten Your Smile with Petaluma Teeth Whitening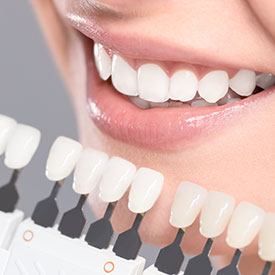 Everyone wants a bright, white, and shining smile. Most patients can achieve dramatically whiter teeth with safe, affordable teeth whitening. Every patient has different needs, so we give you options when it comes to achieving a dazzling smile.
---
Over-the-Counter Whiteners
For relatively young patients with slightly yellow teeth, I often recommend an over-the-counter product, like Crest Professional Strength Whitestrips. This product is safe and typically effective for patients in their teens or twenties. It is important to stick to major brands like Crest, Colgate, or Rembrandt, as store-purchased teeth whitening products are NOT regulated by the FDA, and some lesser-known brands may damage your teeth. Please don't buy an internet product.
---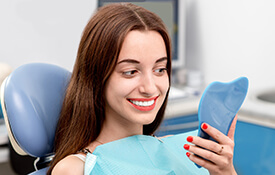 In-office Bleaching with Zoom! Teeth Whitening
Zoom! offers a fast, easy way to achieve a smile up to eight shades brighter in a single office visit. This extremely popular whitening method uses specially formulated bleaching gel activated by a halogen light to lift stains and discolorations. Relax and watch your favorite show while Zoom! safely and gently reveals your brightest smile. If you decide that you want an even whiter tooth shade following treatment with Zoom!, we'll give you a customized kit to continue whitening at home. During the week or two following in-office bleaching, teeth are hyper-responsive to a little more whitening with the trays. Typically, one or two hours at home is all it takes to achieve your desired tooth color. Zoom! Teeth Whitening costs a little over $500.
---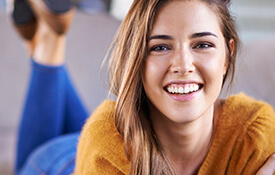 Take-Home Bleaching
We'll use a model of your smile to create custom-made bleaching trays for use with our professional-strength gel. These trays keep the gel sealed against the teeth for maximum effectiveness and no leakage to irritate sensitive tissues. Wear the trays for about an hour a day and typically for 10 to 14 days on average. You'll see progress daily. Keep using the trays until you achieve your desired result. Take-home bleaching provides a cost-effective way to whiten teeth. It has been around for almost 20 years and costs a little over $300.
Patients can also touch up their smile as needed with the take-home kit. Oftentimes, using it about an hour a year is all that is needed to maintain a brilliant smile.