Dental Bridges–Petaluma, CA
Complete Your Smile with a Dental Bridge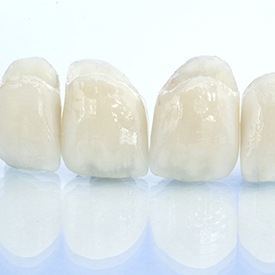 Teeth are meant to last for a lifetime, but that doesn't happen for everyone. 120 million Americans have lost at least one tooth. Dental bridges in Petaluma are the most traditional method of treating tooth loss, which are supported by generations of success. If you've lost a tooth or two over the years, Dr. Bob Koenitzer has the solution you need to enjoy a complete, beautiful smile again with a dental bridge.
---
Why Choose Dr. Bob Koenitzer for a Dental Bridge?
High-Quality Materials
Natural-Looking Results
Personalized Treatment Plans
---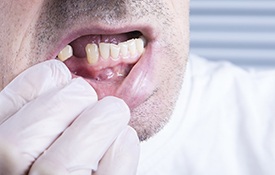 What is a Dental Bridge?
A bridge is used to treat 1 to 3 consecutive missing teeth. An impression of your mouth is used to recreate your missing teeth in Petaluma. The restoration is held in place using either crowns or dental implants. Not only does this fill the gaps in your smile, but it also preserves your oral health to help you avoid common issues caused by tooth loss, like cavities and gum disease.
---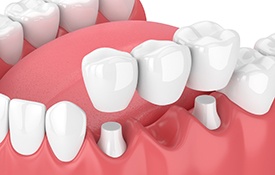 Types of Dental Bridges
You have more options than ever before to replace lost teeth. Your dentist will examine your mouth and learn more about your preferences to determine which treatment is right for you, like:
Traditional Dental Bridge
A traditional bridge recreates the portions of your lost teeth above the gum line. A bridge of prosthetics is created to mimic the size, shape, and color of your real teeth to blend in with your smile. It is held in place by bonding dental crowns to the adjacent teeth. With the correct care, a fixed bridge can last for 10 to 15 years before needing to be replaced.
Implant Bridge
An implant bridge replaces both the roots and crowns of your lost teeth. 1 to 2 dental implants are surgically placed into your jaw to secure your bridge to your bone. This provides a nearly perfect replica of your real teeth using a solution with over a 95% success rate. Not to mention, an implant-supported bridge can last for decades, so you'll never have to budget for replacements.
---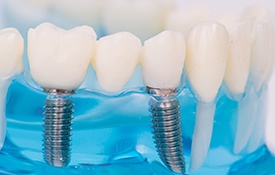 The Benefits of Getting a Dental Bridge
Tooth loss is more than an aesthetic issue. Although your self-esteem probably suffered with each tooth you've lost, your oral health has also declined.
Every tooth is essential for a healthy smile. Losing even one increases your risk of several preventable issues, like cavities, gum disease, and additional missing teeth. A dental bridge is the next best thing to what nature gave you.
It will preserve your remaining teeth to support a healthy mouth and body. Your bridge will be made of high-quality materials for durability and aesthetics. You will look and feel your best using the latest advancements in dentistry. If you're tired of gaps being the focal point of your smile, it's time to invest in a dental bridge. Request an appointment online or call (707) 241-4495.
---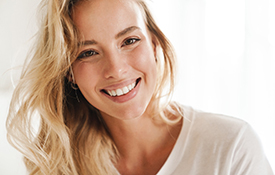 Dental Bridges FAQs
Dr. Koenitzer and the rest of our dedicated dental team in Petaluma are always here to answer any questions you have – from what to expect at your consultation to how to take care of your new dental bridge. With that said, we know that many patients value having the option to do some research online as well, which is why we've dedicated this whole next section to answering FAQs!
Is Getting a Dental Bridge Painful?
Whether you're getting a traditional dental bridge or an implant bridge, you can have peace of mind knowing that we'll go the extra mile to keep you as comfortable as possible. If we need to place dental crowns on the surrounding teeth or surgically insert the dental implants in place, we will thoroughly numb your mouth before starting. Of course, if you struggle with dental-related anxiety or you still feel nervous, we can discuss adding dental sedation to your treatment plan as well.
During the recovery period, you can expect to experience some minor discomfort and soreness. Don't worry – we will provide you with aftercare instructions to keep you as comfortable as possible.
Can Dental Bridges Get Cavities?
Since dental bridges are crafted from cavity-resistant materials, they cannot decay. This doesn't mean that you don't have to brush and floss anymore! Remember, your natural teeth (including the ones underneath your dental crowns) are still vulnerable to damage. Furthermore, your gums can develop an infection if you don't prioritize keeping them healthy. For all of these reasons, we strongly recommend maintaining a solid oral hygiene regimen before, during, and after your treatment.
How Long Should a Dental Bridge Last?
Typically, dental bridges last between five and 15 years. With that said, there are multiple factors that influence the lifespan of yours, including which materials you choose to make it. Perhaps even more important, however, is that you take care of your smile properly. That includes consistently brushing, flossing, rinsing with mouthwash, and getting a dental checkup and cleaning every six months. Additionally, you shouldn't chew on ice, smoke, or engage in any other unhealthy dental habits.
How Many Teeth Can a Dental Bridge Replace?
It's very common for dental bridges to replace one missing tooth. They also can replace up to four missing teeth in a row! If you are missing 5+ teeth, then we may suggest another tooth-replacement solution, like a partial denture. That's because the longer the dental bridge extends, the less stable it becomes. During your consultation, we will review all of your treatment options based on your unique dental needs. That way, you enjoy a completely restored smile for years to come.
Do Dental Bridges Look Natural?
Good news: the answer is "yes!" To start, dental bridges are custom-made from lifelike materials. That means that we can work with you to select the shade that closely matches your surrounding teeth, and no one will be able to tell a difference. It's also worth noting that the dental crowns and dental implants are custom-made just for you, which ensures that they don't feel bulky in your mouth and that they feel completely natural.