Invisalign®—Petaluma, CA
The Modern, Discreet Smile-Straightening Solution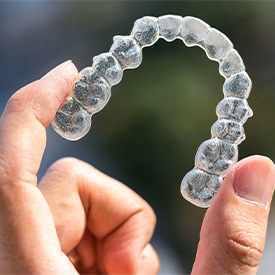 If you'd like to address misaligned, crowded, or gapped teeth but don't want to have to commit to wearing metal brackets and wires for years to come, Invisalign in Petaluma could be the best treatment option for you. Utilizing removable, clear plastic trays that are customized to fix the specific orthodontic issues that you face, Dr. Koenitzer can efficiently and more comfortably straighten your smile. To learn whether you're a good candidate for Invisalign, contact our office today to schedule a consultation!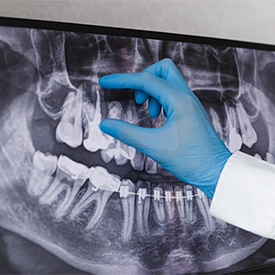 How Does Invisalign Work?
Invisalign employs sophisticated technology to create a treatment plan to achieve your smile goals. First, we'll make a model of your teeth using traditional dental impression material and take digital pictures and X-rays. Then, we'll send this information to Align Technology to scan the impression and create a 3D image of your teeth. High-tech software allows for incremental planning of your treatment from start to finish. At this point, Dr. Koenitzer will take the 3D image of your teeth and modify it as needed. Once he is satisfied with the results and the steps involved, he will invite you to the office to view the treatment plan.
You will first see an image of your teeth as they currently appear. Then you will watch the image transform into your dream smile. This image is viewable from any angle or viewpoint to let you see your teeth move in three dimensions. If you want, he can still modify the final result at this stage.
Up to this point, you have not committed to treatment, and there is no charge for the planning process (except a fee for X-rays). If you decide to move forward, Dr. Koenitzer simply presses a button on the screen and Align Technology begins the process of making your aligners.
Each set of aligners will move your teeth a maximum of a quarter of a millimeter in two weeks. The maximum amount of movement needed determines how many aligners your series will contain. For example, if one tooth needs to be moved three millimeters, you would need 12 aligners (12 x .25mm = 3mm). Since each aligner is worn for 2 weeks, total treatment time would be about 24 weeks (12 aligners x 2 weeks/aligner = 24 weeks).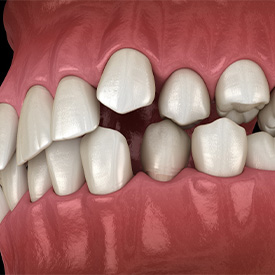 Indications for Invisalign
Invisalign is a versatile orthodontic treatment that can be used to address a wide range of mild to moderate issues, including the following.
Crowded Teeth
Crowded teeth can contribute to plaque and tartar accumulation over time by making it more difficult to effectively brush and floss your teeth, leading to higher chances of developing common oral health problems like gum disease and cavities.
Gaps Between Teeth
If you're not fond of having gaps between your teeth for aesthetic reasons or want to make brushing and flossing easier, Invisalign can help to close spaces in your arch and create an even row of teeth.
Bite Alignment
Whether you suffer from overbite, underbite, crossbite, or any other bite misalignment, Invisalign aligners can help address these issues to minimize your chances of developing other problems down the road, like TMJ disorder.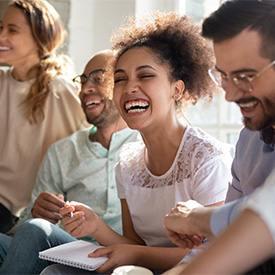 Benefits of Invisalign
Invisalign is such a popular treatment option because it has countless benefits to offer that set them apart from traditional braces. Some of the advantages of choosing Invisalign include:
Faster average treatment time
Conveniently removable orthodontic appliances
Easier to maintain oral hygiene throughout treatment
Discreet, clear plastic aligners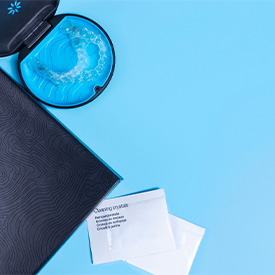 How Much Does Invisalign Cost
The cost of your Invisalign process will depend on multiple factors, including how long you'll need to wear your aligners for and how diligent you are about keeping up with your treatment plan. Dr. Koenitzer, your dentist in Petaluma, and his team will provide you with a detailed cost estimate at your initial consultation and walk you through your payment options to ensure that you have all of the information you need to make the best decision for your wallet and smile.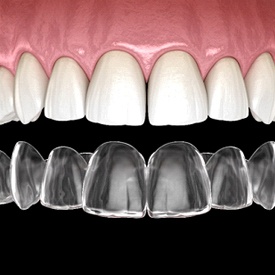 Invisalign FAQs
You've been wanting to straighten up your smile for a while, and after considering your options, you're leaning toward Invisalign in Petaluma. You recognize that it involves some different considerations than traditional braces, so before committing you still have a few questions. That's understandable, so we've compiled some of the questions most often asked by previous patients. If you are still searching for answers after reading through the info below, be sure to contact our team!
How Long Does Invisalign Take?
It depends. On average, it takes 12-18 months to finish treatment. However, every patient has unique smile circumstances, and several factors affect the amount of time it takes to achieve your desired results, such as the severity of your misalignment and your commitment to the treatment plan. People with mild orthodontic issues can expect to finish up in as soon as six months! If you have a more severe case of dental misalignment, you can expedite the process by visiting your cosmetic dentist in Petaluma regularly and diligently following treatment instructions.
Can You Eat with Invisalign?
The best part about Invisalign is that there are no dietary restrictions while you undergo treatment. Since the clear aligners are removable, all you must do is take them out before you eat. Otherwise, you risk damaging the aligners, causing cracks and stains. It also places unnecessary pressure on your teeth. That said, you should always take out your plastic trays and store them in a safe place before eating or drinking anything that's not water.
What Happens After Invisalign?
Once you've completed the last aligners in the series, you'll visit your dentist to verify the results. They will ensure your teeth are in the desired, straight position before briefing you on what maintenance for your newly aligned smile will look like. Post-treatment will begin with wearing a retainer. These are designed to be much more comfortable to wear than those in the past, and you'll usually get to choose between wire retainers and clear plastic ones that look similar to Invisalign. Based on your specific needs, your dentist will recommend how often you'll need to wear your retainer. Usually, you'll start wearing it full time before gradually decreasing to only wearing it at night.
What Does Invisalign Look Like?
Designed with transparent plastic, Invisalign clear aligners are visible when outside of the mouth, but incredibly hard to detect once worn. With proper maintenance, patients can keep their aligners clean, clear, and discreet. Unlike traditional braces that require brackets and wires, Invisalign's predictable clear aligners allow patients to achieve straight teeth without compromising their appearance. In some cases, patients may require attachments, buttons, or elastics that help during the alignment process. These items are not made of clear plastic and sometimes are more visible than the rest of the aligners.