September 20, 2018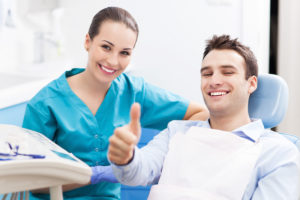 Brushing, flossing and seeing your dentist in Petaluma is important for preventing tooth and gum disease. But, for those who are already suffering from these conditions, laser therapy is an effective way to treat the symptoms and promote lasting recovery.
What Causes Gum Disease?
Our bodies are wonders of nature. To see what we mean, just consider the immune system. Right now as you read these words millions of microscopic soldiers are patrolling your blood and tissues, ever alert for bacterial invaders. These tiny guardians are primed to act at the slightest sign of a threat to your health. Sometimes, though, the enemy gets the upper hand. When this happens the consequences can include swollen, inflamed gums, damage to your bone structure and even tooth loss.
While there are many possible causes for gum disease, some of the more common risk factors include:
Certain health conditions. For example, diabetes or high blood pressure can weaken the immune system, making gum disease more likely.
Hereditary factors. Some people inherit a heightened risk for gum disease.
Tobacco use. Most people know that smoking greatly increases the likelihood of tooth and gum disease. But all tobacco products carry similar risks.
Poor dietary choices. Harmful bacteria are similar to mechanical engines in that they require a fuel source. In the case of bacteria, that fuel source is sugars and simple starches. This is why your dentist recommends limiting your consumption of sugary and starchy treats.
Excessive alcohol use. Alcoholic beverages and other acidic liquids can irritate your gums, setting the stage for gum disease.
Lack of proper care. Skipping dentist appointments allows plaque and tartar to build up in your mouth, eventually leading to gum disease and tooth loss.
Giving your teeth and gums the care they deserve can minimize your risks of suffering oral health issues. For many people, however,  gum disease have already set in. Laser therapy can help many of these people to enjoy freedom from their symptoms.
How Dental Lasers Work
Lasers have been used in dental therapy since 1994. Since then dentist have come to rely on them to treat a number of oral health conditions. Here are some examples:
Lasers can remove decay and infection from distressed teeth while preparing the tooth for a filling.
Lasers are used along with peroxide bleaching solution to clean and whiten teeth.
Lasers can painlessly remove small samples of tissue, either for biopsy purposes or to treat lesions and canker sores.
Lasers are also a powerful therapeutic tool for treating gum disease. They provide dentists with a gentle, precise tool for destroying harmful bacteria and reshaping infected gums. In some cases lasers can even be used instead of more traditional tools such as a dental drill, relieving patient anxiety while ensuring better results.
As with so many aspects of healthcare, the best care for oral health problems is prevention. But, in cases where gum disease has already begun, dental lasers offer new hope for sufferers. Make an appointment with your dentist in Petaluma today to find out more about this exciting form of therapy.
About the Author
Dr. Bob Koenitzer earned his DDS degree from the University of California at San Francisco, which has one of the top programs of its type in the world. Dr. Koenitzer was voted "best dentist in Petaluma" for five years in a row. You can reach his office online or by calling (707) 766-6666.
Comments Off

on Tips from a Dentist in Petaluma for Avoiding Gum Disease
No Comments
No comments yet.
RSS feed for comments on this post.
Sorry, the comment form is closed at this time.