April 10, 2019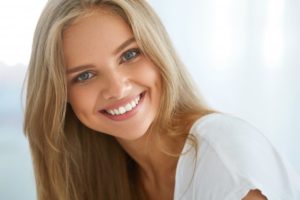 If you're looking to make a positive impact on a person at a first-time meeting, it's important to have an attractive smile. Teeth stains can definitely act as a hindrance, though. Thankfully, there is help available with teeth whitening provided by your local cosmetic dentist. Before you undergo the process, here are 4 things you should know.
#1 – Results Matter
While teeth whitening is gaining in popularity, and there are now take-home kits available from your local drugstore, the professional route is still the most effective. Your cosmetic dentist can brighten your teeth up to 10 shades using the Zoom! in-office whitening method, which involves high-powered bleaches being applied in 15-minute increments, and up to three times.
If you prefer to undergo treatment in the comfort of your home, there is also the take-home bleaching option. You'll be provided with a series of custom trays that you'll use to safely and effectively whiten your teeth. In around 10 to 14 days, you'll see noticeable improvements in the appearance of your smile.
#2 – Dental Insurance Doesn't Cover Teeth Whitening
Dental insurance is structured, mainly, to cover treatment that is considered integral to your oral health. Thus, cosmetic procedures like teeth whitening are designated as electives, requiring patients to pay out-of-pocket.
#3 – Yes, Teeth Whitening is Affordable
For patients who are more cost-sensitive, the thought of paying for teeth whitening may be daunting. The good news is this is one of the more cost-effective forms of cosmetic dental care.
The average cost of Zoom! in-office whitening is $500 while the take-home method costs around $300.
#4 – The Availability of In-Office Financing
At your initial visit, ask your dentist if any alternative financing is available. A commonly-used method is CareCredit, which provides low-to-no-interest credit for dental procedures with repayment options of six to 24 months.
It's More Than Just a Nice Smile
When you have your teeth professionally whitened, you stand to gain more than just a beautiful smile. You'll also experience a level of confidence like you never have. Studies show that could possibly translate into some overall health benefits.
By encouraging you to smile more, having a brilliant set of teeth can lead to the greater production of positive hormones like oxytocin, dopamine, endorphins and serotonin. This can then translate into less inflammation throughout your body, which provides a boost to your immune system.
So to experience the many benefits of having the smile of your dreams, reach out to your cosmetic dentist to schedule a consultation today!
About the Author
Dr. Bob Koenitzer earned his dental degree from the University of California at San Francisco. Throughout his career, he has remained committed to constantly expanding his knowledge. Thus, Dr. Koenitzer participates in an online collective that shares information on techniques, materials and the latest advancements in dental care. He brightens smiles with Zoom! teeth whitening at his private practice, and he can be reached for more information through his website.
Comments Off

on Here are 4 Key Things You Need to Know About Teeth Whitening
No Comments
No comments yet.
RSS feed for comments on this post.
Sorry, the comment form is closed at this time.