June 24, 2019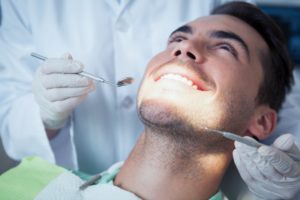 You haven't seen your dentist in the past year. You've just been too busy at work and don't think you can afford any time off. And really, what's the harm? You brush twice a day and floss daily; that's all you really need to do, right? Not so fast. Having a dental checkup at least twice a year is an important part of maintaining good oral health – as well as good overall health. Here are 3 reasons why you should make sure to schedule those appointments.
1. Your Dentist Can Thoroughly Clean the Mouth of Plaque and Tartar
Even if you do a good job while brushing and flossing, there are small areas in your mouth that can easily be missed, leading to plaque buildup. Furthermore, if plaque is allowed to harden into tartar, you'll no longer be able to remove it by yourself. Your dentist can get rid of tartar and thoroughly clean any spots that you've missed; they can also give you advice on how to improve your brushing technique.
2. Cavities and Gum Disease are More Easily Treated Early On
The bacteria on your teeth can cause decay of the enamel, creating cavities. If this isn't stopped, the bacteria can infect the tooth's pulp; not only can this be painful, but it can also lead to tooth loss as well as other health complications. A regular checkup can identify and address signs of decay before too much damage is done.
Similarly, if your gums become infected, early treatment can make all the difference. The earliest form of gum disease, gingivitis, is the easiest to treat; more advanced periodontitis is harder to reverse and can spread to the roots of the teeth. If your dentist finds the early signs of gum disease, the required treatment will be simpler – as well as less costly!
3. Other Health Conditions Can Be Detected in the Mouth
The majority of systemic diseases – those which affect your whole body – have symptoms that can manifest in the mouth. A lesion in your mouth, for instance, can be a sign of HIV. Oral cancer can create red patches or sores; other forms of cancer can result in swollen lymph nodes.
Your dentist can check your mouth for these and other symptoms. An oral cancer screening is often a regular part of a checkup, and other potential problems can be identified during your visit. This way, you can be pointed in the right direction for treatment.
Keeping your biannual dental appointments can make all the difference in protecting your teeth, your gums, and your body overall. Be sure to ask what questions before and after the examination, and share any concerning symptoms; your dentist is your partner in protecting your oral health, so it's important to work with them!
About the Author
Dr. Bob Koenitzer is active in the dental community and regularly participates in an online forum for roughly 1,000 dentists who exchange information on techniques and advances in the field. He provides quality preventive care at his practice in Petaluma. To schedule an appointment, visit his website or call (707) 766-6666.
Comments Off

on 3 Good Reasons to Have a Regular Dental Checkup
No Comments
No comments yet.
RSS feed for comments on this post.
Sorry, the comment form is closed at this time.