August 30, 2019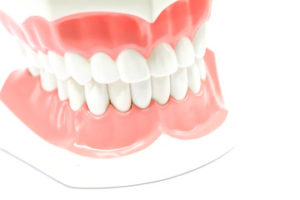 According to the Journal of Prosthetic Dentistry, almost 37 million people wear full dentures. One of the most popular types of restorative treatments, full and partial dentures can help restore your ability to smile, eat and speak. But what happens when you need to fix this restorative appliance? In this post, your dentist will explain the common repairs available and list some alternatives to traditional dentures. 
How Are Dentures Made?
To restore your smile, your dentist first takes impressions of your mouth. They will then have you try different model dentures to determine the size and color of your new teeth. The cast of your mouth is sent to a lab, where a trial denture is made with a mix of wax and acrylic resin. After the wax dentures are approved by both you and your dentist, they're sent back to the lab to create your permanent pair. 
Can I Repair My Dentures?
Every dental appliance, even dentures, will eventually need repairs. The most common reason for denture restoration is fractures. These can be caused by improper fit, accidents or simply the passage of time. It's important to address your damaged dentures immediately to prevent oral injury. 
To address an improper fit, your dentist in Petaluma can reline your dentures with more acrylic. This is essentially a resurfacing of the side of your dentures that's in contact with the soft tissues of your mouth. Relining is often done in your dentist's office, but extensive repairs are completed in a lab.    
If relining doesn't work, your dentist may recommend a denture rebase. This procedure includes the complete remaking of the pink acrylic of your denture, which holds your teeth in place. Your replacement teeth are then inserted into the new base. Minor issues like sore spots can also be addressed with small denture adjustments. 
Do I Have Other Options? 
If you're looking for an alternative solution to your broken or worn-down traditional dentures, implant-retained dentures are a more permanent option. With this procedure, your dentures are fixed to your mouth with the help of screw-like implants. This offers a host of advantages, from a more natural look and feel to improved stability. Implant-retained dentures won't slip and allow you to eat a more well-rounded diet. They also may be a more hygenic tooth-replacement solution for many patients. 
Dentures can restore your smile and your quality of life. To enjoy their full benefits, your dentures should fit properly and be comfortable. Reach out to your dentist today if you think your dentures require repairs. 
About the Author 
Dr. Bob Koenitzer was voted Best Dentist in Petaluma for six years in a row. He has wanted to work in the dental field since 7th grade and continues to provide quality care to his patients. If you have further questions about dentures, he can be reached through his website or at 707-766-6666.
Comments Off

on What Can I Do About My Worn-Down Dentures?
No Comments
No comments yet.
RSS feed for comments on this post.
Sorry, the comment form is closed at this time.