May 18, 2020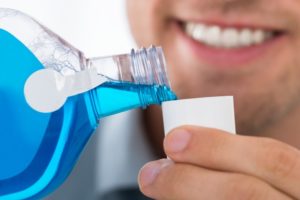 Your next dental appointment may look somewhat different than your last visit before the COVID-19 pandemic. A wide variety of additional infection control protocols have been established to keep you as safe as possible when getting the dental care you need in COVID-19. Before your dental treatment begins, your Petaluma dentist may ask you to rinse your mouth out with an antimicrobial mouthwash. Here's what you need to know about this new step in your routine dental visits during the coronavirus pandemic.
Antimicrobial VS Antiseptic Mouthwashes
The oral rinse your dentist is asking you to use is an antimicrobial mouthwash. It's much more powerful than the mouthwashes you can buy at the store, which are typically antiseptic. Although they may look similar, these two oral rinses are very different:
Antiseptic mouthwashes use alcohol, fluoride, and other chemicals to clear away bacteria and minimize your risk of infection.
Antimicrobial mouthwashes use specialized ingredients to kill or inactivate harmful fungi, bacteria, parasites, and viruses in the mouth.
Thoroughly Yet Comfortably Cleaning Your Mouth
Some people shy away from using mouthwash because of the burning sensation it can cause, which is a result of the alcohol it contains. Thankfully, even though they're more powerful, antimicrobial mouthwashes won't cause any discomfort. Instead of alcohol, they use activated chlorine dioxide to eliminate microbes without causing a burning sensation. However, you can always bring your concerns to your dentist, who can ensure you are as comfortable as possible.
Using Antimicrobial Mouthwash in COVID-19
Typically, antimicrobial mouthwashes are used to treat a dangerous bacterial infection in the gums known as periodontal (gum) disease. No mouthwash has been tested against COVID-19, and researchers are unsure if oral rinses affect the COVID-19 virus. However, clearing away any dangerous particles in your mouth is a worthwhile extra layer of precaution, especially before receiving dental care.
Does Using Mouthwash Every Day Prevent COVID-19?
It's important to remember that mouthwashes have neither been tested nor recommended to prevent COVID-19. Research shows that the most effective way to keep yourself and others healthy is to practice social distancing and regular handwashing. Nevertheless, using a mouthwash daily can eliminate 99% of germs that cause bad breath, gingivitis, and plaque. When used in conjunction with brushing and flossing, an oral rinse can improve your oral health, which in turn promotes a strong immune system as well as your natural ability to fight off viruses and infections.
While the COVID-19 pandemic may have changed what your dental visits look like, it hasn't changed your dentist's commitment to your overall safety. They are taking every precaution to keep you and your smile as healthy as possible when you need it most.
About the Author
Dr. Bob Koenitzer is dedicated to keeping the smiles of Petaluma, CA happy and healthy with the newest dental technology and techniques. He is a graduate of the University of California at San Francisco, which is the top-rated dental school in the US, and was voted as Best Dentist in Petaluma for six years in a row. He stays current with the newest, most effective treatments for his patients by completing numerous hours of continuing education and flying all over the country to listen to the finest dental educators. He has always put the best interests of his patients first and will continue to do so in these unusual times. To learn more about his Commitment to Safety, please reach him via his website or at (707) 766-6666.
Comments Off

on Why Your Dentist Is Asking You to Rinse Before Your Appointment
No Comments
No comments yet.
RSS feed for comments on this post.
Sorry, the comment form is closed at this time.