June 19, 2020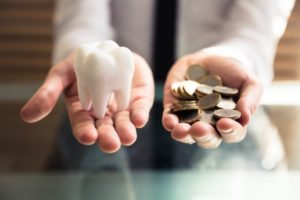 If you have a tooth that's been severely damaged by a cavity or fracture, a dental crown is an outstanding treatment option that will restore its health, function, and appearance for many years. And whereas traditional crowns are done in two visits, a CEREC same-day crown offers the same great quality in just one. But one common question a dentist hears is, "Are same-day crowns covered by insurance?" Keep reading below for the answer.
Are Same-Day Crowns Covered By Insurance?
Most dental insurance plans provide the same benefits for same-day crowns as they do for traditional. And while each plan is different, a good ballpark coverage percentage for dental crowns is 50% to 80%.
The best way to know what your specific benefits are is to talk to your dental team who can explain your insurance plan in detail. They can even file a pre-authorization to get advanced "approval" for the procedure and a closer estimate of your final out-of-pocket cost.
How Do Same-Day Crowns Work and What Are the Benefits?
Same-day crowns use CEREC technology (Chairside Economic Restorations of Esthetic Ceramics), which enables a dentist to design and craft your crown right in their office while you wait. This eliminates the need for an outside lab to make the crown and means you don't have to return for a second visit. But there are several other benefits as well:
Since these crowns are made from ceramic, they're not only beautiful, but strong and durable as well.
Same-day crowns are about the same price as traditional crowns and have the same long-term success rate, so you can expect your new restoration to last 10-15 years or more with good oral hygiene habits and regular checkups.
Ceramic not only blends in with your smile but also looks very natural because it reflects light more like enamel.
Metal crowns can increase sensitivity, but you won't have to worry about that with ceramic because it doesn't conduct hot and cold temperatures as well.
Ceramic is also bio-compatible with the soft tissues in your mouth and won't aggravate metal sensitivities or allergies.
With a same-day crown, you'll get outstanding quality with the convenience of just one visit. And with your insurance coverage, you won't have to break the bank either!
About the Author
Dr. Bob Koenitzer is a native of Petaluma and has been an award-winning family dentist for many years. He's passionate about providing the highest-quality care possible and accepts all major insurance plans to make it convenient and affordable as well. If you're interested in same-day crowns or have any questions, you can reach Dr. Koenitzer via his website.
Comments Off

on Are Same-Day Crowns Covered By Insurance? A Dentist Explains
No Comments
No comments yet.
RSS feed for comments on this post.
Sorry, the comment form is closed at this time.