October 12, 2020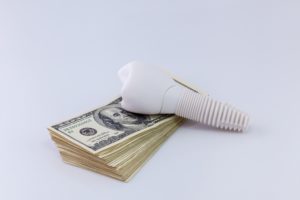 Over 500,000 people each year are choosing a dental implant over a traditional prosthetic because it is the closest replica of a natural tooth. Unfortunately, dental implants are more expensive upfront than conventional solutions. If you're on a tight budget, are dental implants worth the cost? Absolutely! Here are 3 reasons they are an investment in your smile.
1. Long-Term Solution
Despite the latest innovations in dentistry, traditional dental prosthetics only last an average of 5 to 10 years before needing to be replaced. While they are initially more affordable, you'll need to pay for new ones every few years, which can be costly over time.
Dental implants have the potential to last for a lifetime. As the most reliable option for tooth loss, they have over a 95% success rate. They can last for decades with the right aftercare, so you'll never need to worry about having them replaced. As a result, dental implants are the most cost-effective treatment to save money down the road.
2. Lower Oral Health Expenses
Conventional bridges, partials, and dentures only treat the portions of the teeth above the gum line. Therefore, they can't stop the complications associated with tooth loss. A dental implant is the only way to preserve your jawbone to prevent dental drift.
A titanium implant post serves as a new root, which stimulates your bone to ensure your teeth stay in place. You'll have a decreased risk of cavities, gum disease, and additional missing teeth to prevent needing a costly treatment in the future.
3. Affordable for Everyone
Don't let the cost of dental implants deter you from completing your smile. Your treatment plan will involve various stages over several months. Each phase has a separate fee, so you won't need to pay for the entire procedure at once. Instead, you can pay for each step individually, which can make it easier to accommodate your budget.
Although every policy differs, many dental insurance plans can be used to help offset the expense of the treatment. After paying your annual deductible, you can use your yearly benefits to lower the amount you need to pay out-of-pocket, like your consultation, tooth extractions, or restorations.
After maximizing your dental benefits, your dentist will help you find the options you need to cover any remaining balance, like third-party financing with CareCredit. Based on your credit's approval, you're given the funds you need for your treatment. You'll repay the balance using a plan that doesn't cause any added financial strain.
Invest in Your Smile Today
If you're ready to boost your oral health, it's time to see if you're a candidate for dental implants. Your dentist will provide you with a personalized estimate to replace your missing teeth without draining your wallet.
About Dr. Bob Koenitzer
Dr. Koenitzer earned his degree from the top-rated school in the U.S., the University of California at San Francisco. He has extensive post-graduate training to treat even the most complex dental issues, like tooth loss. Contact our office today to see if dental implants are right for you.
Comments Off

on Top 3 Reasons Dental Implants are Worth the Cost
No Comments
No comments yet.
RSS feed for comments on this post.
Sorry, the comment form is closed at this time.