December 3, 2020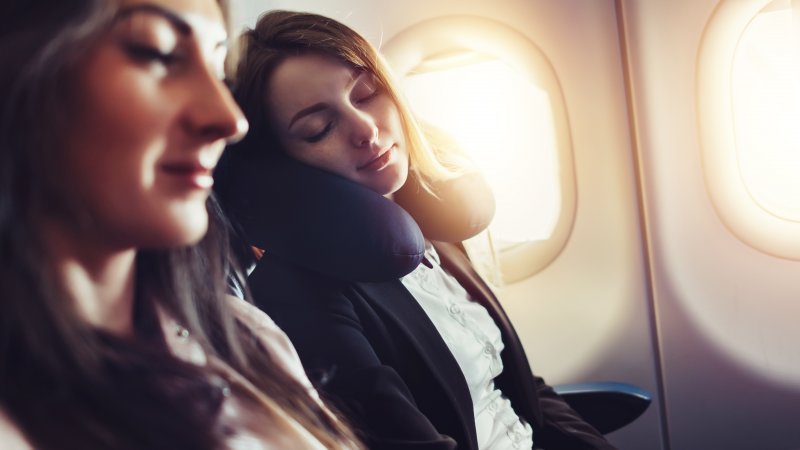 Have you ever been told that you shouldn't fly after you've had a dental filling or other work done? Is this a truth or a myth? It isn't all that uncommon for people to be worried about flying after dental work, but why is that? Should you postpone your trip or treatment till a later date? Your dentist in Petaluma is here to help you get to the bottom of this. Continue reading to learn whether or not you should fly after dental treatment and some other tips.
Can You Fly After Dental Treatment?
There is no reason why you cannot fly after having a filling, root canal in Petaluma, or other minor dental treatments. However, the change in altitude when you fly might have a negative effect on the way you feel for the duration of the flight. This depends on each individual person, their tooth sensitivity, type of dental work, and pain tolerance. Minor discomfort is certainly a possibility if you opt to fly after your treatment, especially if there is air trapped in your fillings.
If you have had any type of surgical dental work done, like dental implant placement surgery or a wisdom tooth extraction, you may be better off waiting a couple of days before you hop on a plane. After these types of treatments, your body will need some time to rest and recover. Wait at least 48 hours before you hit the skies again.
Tips for Traveling After Dental Work
If you tend to have teeth that are more on the sensitive side or you do not have a very high pain tolerance, traveling can be a bit uncomfortable. Here are a couple tips to help:
Medication: Before your flight, try taking an over-the-counter pain reliever like ibuprofen or acetaminophen. Anti-inflammatory properties of drugs can help with discomfort during your flight. Remember to always follow the instructions of your doctor when taking medications.
Reschedule: If you know that you are going to be traveling in the near future, try to book your dental visit at least a few days (or weeks) ahead of time if possible so that you have some extra time to fully recover.
If you've recently had minor dental work done, it is safe to fly. However, you should be aware of possible discomfort so you can be prepared. Talk to your dentist so you can get the best possible advice on your travel plans.
About the Author
Dr. Bob Koenitzer earned his Doctor of Dental Surgery from the University of California at San Francisco and has received several awards for clinical excellence. He is committed to continuing education in all aspects of dentistry. For more information or to schedule an appointment, visit his website or call (707) 766-6666.
Comments Off

on Can You Travel After Dental Work?
No Comments
No comments yet.
RSS feed for comments on this post.
Sorry, the comment form is closed at this time.