February 4, 2021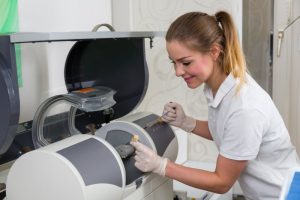 To say that dental technology has come a long way is an understatement. Dentists now have access to powerful and advanced computer software and manufacturing processes that improve their patients' dental experience and deliver phenomenal results. An example of this is the CEREC crowns method of restoring teeth. Continue reading to learn all the ends-and-outs of what the procedure entails.
What is CEREC?
The acronym 'CEREC' stands for Chairside Economic Restoration of Esthetic Ceramic. It's a way of creating dental restorations at your dentist's office, instead of waiting for weeks to have it manufactured at a dental lab. Typically reserved for restoring decayed or injured teeth, this method of restoration uses the latest in design and fabrication equipment.
How the Design and Creation Processes Work
Restorations are designed using CAD (computer-aided design). It allows for digital impressions to be taken that are accurate down to the most finite detail. The images are sent to the accompanying CAM (computer-aided manufacturing) machine, which has the job of translating the data and measurements into a quality custom ceramic restoration.
CEREC can be used to fabricate the following:
Crowns
Inlays and Onlays
Fixed Bridges
Veneers
Dental Implants
Dentures
The Advantages of CEREC
Typically, after an initial treatment is completed, it would take a couple of weeks for the final restoration to arrive from a dental lab. It could take two or more visits for the procedure to be completed.
These inconveniences are eliminated with CEREC. In addition to the same-day restoration offered, here are some of the other benefits:
Less Stress – If you're like most people, you lead a busy life; thus, every moment counts. The time saved that comes along with having a tooth fully restored in a single visit amounts to less stress and one less thing to worry about.
Better Quality – With CEREC being an in-house service, the dentist will have more control over the quality of the restoration. Therefore, you can bank on a final product that is just right for your smile.
One and Done – With the typical method of having a temporary restoration placed while the permanent version is being fabricated, there is always an opportunity of damage occurring that causes pain and leaves the tooth vulnerable to infection. The same-day convenience of CEREC eliminates this problem.
If you're in need of restorative dental care but you desire to save time and experience a seamless process, you may consider searching for a dentist who offers CEREC same-day treatment. Thus, you can get back to leading a normal and productive life sooner than later!
About the Author
Dr. Bob Koenitzer is a graduate of the University of California at San Francisco, the top-rated dental school in the US. Voted Best Dentist in Petaluma six years in a row, he combines his years of experience with the most advanced dental technology and equipment to provide his patients with the absolute best in dental care. Dr. Koenitzer offers CEREC same-day restorative dentistry at his private practice, and he can be reached for more information or to schedule a visit through his website.
Comments Off

on Here's What You Need to Know About CEREC Technology
No Comments
No comments yet.
RSS feed for comments on this post.
Sorry, the comment form is closed at this time.