March 1, 2021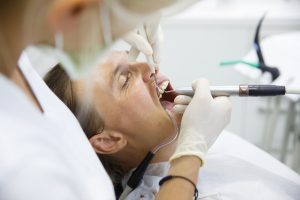 If there's one treatment that, when mentioned, strikes terror in the hearts of many, it's the dreaded root canal. But is the angst that many have about the procedure warranted? The reality is that the 21st century root canal is far different from what it used to be decades ago. With that in mind, there are 3 common myths about root canal therapy that can be discouraging. As you continue reading, these mistruths are unraveled so you can comfortably receive the care you need!
What is Root Canal Therapy?
When bacteria enter the sensitive parts of a tooth where the canal and nerves are found, there is typically sharp pain that alerts a person that there is a problem. The usual treatment process (if there is enough tooth material remaining) is for a dentist to perform a root canal, which involves the following steps:
Making an incision to gain access to the infected area
Thoroughly cleaning and packing the vacated space with a compound called gutta-percha
Sealing the tooth and taking bite impressions that are used to custom craft a dental crown
Placing a temporary crown
Placing the permanent crown after it arrives from the dental lab
Myth #1 – Root Canal Therapy is Painful
You may have had a bad experience in the past, or you've heard one of the countless horror stories about a root canal, but the reality is that the procedure has evolved significantly. In fact, you shouldn't expect to feel any more discomfort than you would with a filling.
Before any work gets underway, your dentist will make sure the treatment area is completely numb. If you're feeling anxious about the procedure, you can even ask about the possibility of receiving sedation dentistry.
Myth #2 – Root Canal Therapy Contributes to Illnesses
One of the stranger myths suggests that receiving root canal therapy can contribute to future illnesses or diseases. This is a completely false claim that is based on a poorly designed and outdated research model. In accordance with the modern standards of gathering and verifying data, there is no evidence linking root canal therapy to dysfunction in any other parts of the body.
Myth #3 – A Tooth Extraction is a Better Choice
The first priority of any dentist is to do everything possible to preserve a tooth before opting for an extraction. Thus, pulling a tooth should never be considered as a one-size-fits-all solution for advanced tooth decay. Instead, dentists start by assessing the condition of a tooth. If there is enough material remaining, they will restore it. By avoiding an extraction, patients don't have to worry about considering any replacement options.
The primary takeaway is that root canal therapy has come a long way, meaning you can rest assured that your oral health can be restored in the most convenient, least invasive and painless manner possible. Furthermore, by taking action the moment you recognize a change in your oral health, the faster you can fully recover and get back to leading a normal life.
About the Author
Dr. Bob Koenitzer earned his dental degree from the University of California at San Francisco, the top-rated dental school in the U.S. An advocate of continued growth, he attends advanced postgraduate training courses annually to stay abreast of the vast changes and improvements in dentistry. Dr. Koenitzer offers root canal therapy at his private practice, and he can be reached for more information or to schedule a visit through his website.
Comments Off

on 3 Myths About Root Canal Therapy Finally Addressed!
No Comments
No comments yet.
RSS feed for comments on this post.
Sorry, the comment form is closed at this time.