June 15, 2021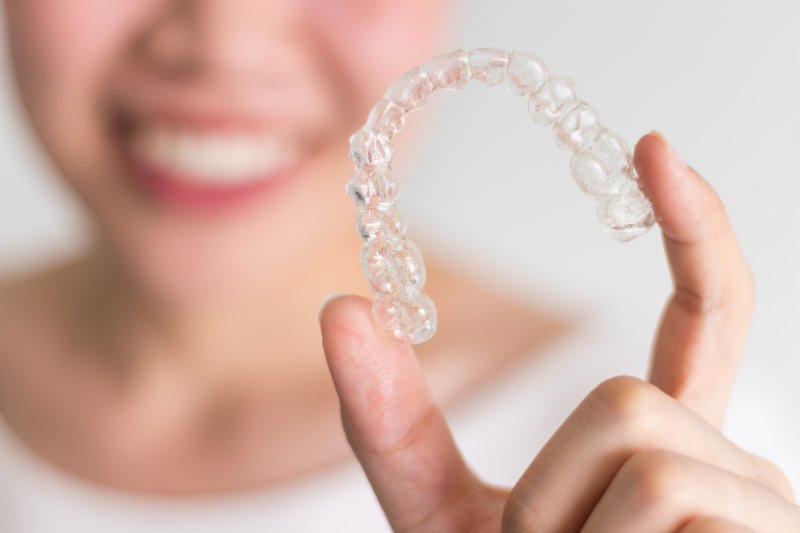 Celebrities seem to look flawless everywhere they go. Whether it's on the red carpet, appearing on the big screen, or hosting an awards show, they're constantly in the limelight flashing their beautiful pearly whites.
It may be hard to believe, but not all famous faces are born with perfect teeth. They're regular people with oral health problems too. In fact, many celebrities have worn Invisalign to achieve their 'million-dollar smile'—read along to find out who.
How Does Invisalign Work?
Invisalign is an orthodontic treatment that uses clear aligners to discreetly straighten your smile. The plastic trays are molded based on the alignment of your teeth. Typically, you wear each one for two weeks before swapping them out for the next set. Each tray is shaped slightly differently and uses pressure to shift your teeth into the desired position.
Invisalign is a popular treatment option among celebrities because it goes unnoticed by the public eye. It's an effective solution to fix their dental issues without the fuss and visibility of traditional metal braces.
Celebrities Who Have Worn Invisalign
Having a picture-perfect smile is ideal for most people, especially celebrities since they're always in the spotlight. Here are five big names who have used Invisalign to achieve their red-carpet grin:
Tom Cruise
When asked to think about a 'Hollywood smile', most people envision Tom Cruise right away. But he didn't always sport the perfect teeth he has now. If you watch his earlier films, like The Outsider, you'll notice that his grin used to look completely different. He is one of the most well-known stars who have undergone orthodontic treatment. Using a combination of ceramic braces and Invisalign, he corrected his teeth while continuing to grace the silver screen.
Oprah Winfrey
As a media mogul and talk show host, Oprah Winfrey's career relies heavily on conversation and lifestyle. Since she is constantly in front of the camera, Invisalign was the perfect, non-restrictive solution to improve her smile. She was able to continue her talk show while undergoing treatment.
Billie Eilish
Teen singer Billie Eilish has worn her aligners on the red carpet, during performances, and in photoshoots—without anyone noticing! She even gave Invisalign a shoutout on one of the tracks in her album, WHEN WE ALL FALL ASLEEP, WHERE DO WE GO?.
Zac Efron
Hollywood heartthrob Zac Efron may be known for his good looks, but his smile wasn't always as dreamy as it is today. When he was younger, he had gaps and misalignment in his teeth. Thanks to Invisalign, he corrected these problems while continuing to perform and play different roles.
Zendaya Coleman
There's no time to be an awkward teenager when you're growing up in the spotlight. Disney star Zendaya Coleman had crooked teeth when she was younger. She needed a solution to achieve a perfect grin without having to forego daily activities. Luckily, Invisalign allowed her to continue her Hollywood lifestyle. The orthodontic treatment helped Zendaya achieve a beautifully aligned set of teeth without interruption.
Invisalign is a comfortable, effective way to straighten teeth discreetly—and it's not just for celebrities. With this treatment, you can have a winning smile that will leave people starstruck too.
About the Author
Dr. Bob Koenitzer is passionate about providing top-tier, comfortable, personalized dental care to all his patients. He attends continuing education classes on an ongoing basis, covering all aspects of dentistry and traveling across the country to hear from the finest dental educators. Dr. Koenitzer stays up-to-date with the latest techniques and materials in dentistry, like Invisalign. With this treatment, you can achieve a Hollywood smile quickly and comfortably. If you would like to consult with Dr. Koenitzer to determine if Invisalign is right for you, visit our website or call (707) 766-6666.
Comments Off

on 5 Celebrities Who Used Invisalign to Get a Hollywood Smile
No Comments
No comments yet.
RSS feed for comments on this post.
Sorry, the comment form is closed at this time.