August 22, 2021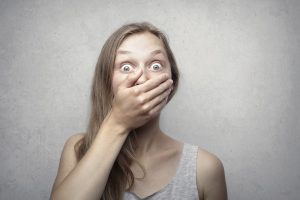 If you used veneers to achieve the smile of your dreams, you likely don't think twice about your teeth anymore. You know they are bright and beautiful using the custom-made thin shells. You probably never expect a veneer to fall off, but it's bound to happen, eventually. Veneers are proven to last for decades under the right conditions, but there may come a time when you lose one. Don't panic! Here's what you need to do if a veneer fell off.
1. Collect the pieces.
Whether the veneer is completely intact, or it is in pieces, collect as much of it as you can and store it in a clean container. It's better to place it in a plastic container with a lid to avoid additional damage. Although your flawed smile might be embarrassing, don't keep the veneer in your mouth to avoid choking or swallowing it.
2. Call your dentist.
When bonding your veneers to your teeth, your cosmetic dentist removed about 0.5mm of enamel, which didn't harm the health of your tooth; however, it will be vulnerable if it isn't covered by a restoration. As a result, you need to call your dentist right away. You don't want to delay having the veneer replaced because your newly exposed tooth could be harmed. Your cosmetic dentist will get you into the office quickly to reinstate your stunning smile.
3. Watch what you eat and drink.
Since your enamel is thinner after getting veneers, it means you're more likely to experience tooth sensitivity without them. You can avoid discomfort by skipping hot or cold foods and drinks until after your veneer has been repaired. If you're having any sensitivity to pressure, stick to softer foods until after you see your dentist.
4. Leave the repairs to the professionals.
You can purchase an over-the-counter repair kit, but that's never a good idea. Veneers can fall off for several reasons, such as from decay on the underlying tooth. Reapplying it without the proper care can lead to a big problem down the road. It's best to wait until your dental appointment instead of using OTC repair kits or glues. If you need a temporary solution, you can try to use a bit of dental wax to create a barrier on the surface of your tooth.
5. Your dentist will restore your smile.
Your dentist will find the cause of your failed veneer, whether from weak bonding material, trauma, or decay. No matter the culprit, they can reinstate a confident, beautiful smile using a personalized plan.
If you've lost a veneer, calm down and call your dentist. They'll help you through the stressful time to protect your investment.
About Dr. Bob Koenitzer
Dr. Koenitzer earned his dental degree at the University of California at San Francisco, where he received various awards for clinical excellence. He regularly continues his training in many specialties, like cosmetic dentistry. If you have a damaged veneer, contact our office today to schedule your consultation.
Comments Off

on Help! My Veneer Fell Off My Tooth!
No Comments
No comments yet.
RSS feed for comments on this post.
Sorry, the comment form is closed at this time.