September 9, 2021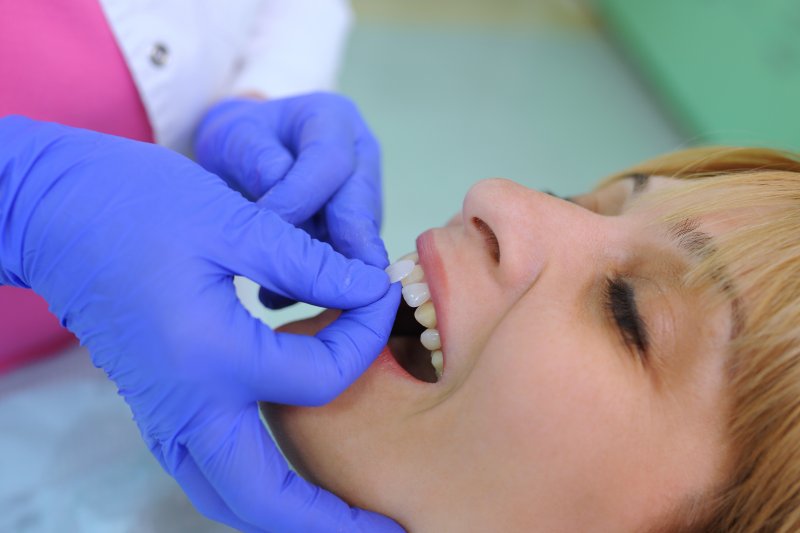 While looking back at old photos, you notice that your teeth are more crooked than you realized, and you decide that you're going to look into having them straightened. While you may have to spend months in Invisalign or even years in braces to realign your smile, veneers can be used to correct minor misalignments in as few as two appointments. Learn why veneers are often called instant orthodontics and how they can give you the perfectly straight smile you've always wanted.
Benefits of Veneers
To attach the veneers, your dentist will remove a small amount of enamel to make them stick to your teeth better. This safe, simple treatment can be used to close small spaces between teeth and make your smile look more even and uniform. Some other advantages of porcelain veneers include:
They correct cosmetic issues such as cracks, chips, discoloration, fractures, and surface stains
There is no need for uncomfortable metal wires and brackets
Treatment is simple and can be completed in as few as two appointments
Since only a small amount of tooth enamel is removed, treatment is minimally invasive
Veneers don't come with a long list of restricted foods
They look and feel like your natural teeth
They are low maintenance, durable, and stain resistant
Why They're Called "Instant Orthodontics"
Porcelain veneers are called "instant orthodontics" because they can potentially straighten your teeth without having to wear Invisalign or braces from several months or years. They can even deliver results in as little as two appointments! The visits will be spread out over a few weeks, but the process is still significantly faster than traditional orthodontic treatments, making it ideal for patients who are looking to achieve their smile goals as soon as possible.
How to Care for Your Veneers
Veneers are a quick way of correcting minor issues with your smile and can usually be worn for at least 10 years before they need to be replaced. Extend the life of your veneers by visiting the dentist for cleanings and exams at least twice a year. Brush your teeth twice a day with a soft brush and non-abrasive toothpaste, and floss once per day to remove food that's stuck between your teeth. Avoid grinding or clenching your teeth and chewing on ice and other hard, non-food items so your veneers don't become chipped, cracked, or worn down prematurely. Cut down on foods and beverages that are likely to stain your veneers such as coffee, tea, and red wine to keep them looking bright and beautiful for longer.
Veneers have certainly earned their nickname of "instant orthodontics" by providing a quick and useful solution to minor misalignment issues. Make sure to take good care of your new teeth to keep your smile looking lovely for decades to come!
About the Author
At the dental practice of Dr. Bob Koenitzer, patient comfort is their highest priority. Mutual trust is a core element of what they do, and they strive to improve care for patients in any way possible. Dr. Koenitzer actively pursues continuing education every year and participates in an educational dental forum to learn more about his field and to ensure he's bringing the best possible care to his Petaluma patients. For more information on veneers, call (707) 241-4495 or visit our website.
Comments Off

on Instant Orthodontics with Veneers
No Comments
No comments yet.
RSS feed for comments on this post.
Sorry, the comment form is closed at this time.