December 10, 2021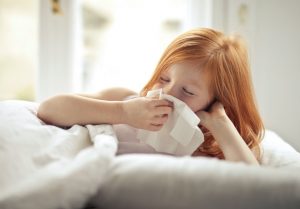 There isn't any doubt, cold and flu season is here. Along with cooler weather comes running noses and sore throats. The average child catches 6-8 colds per year. They are more susceptible to illness because they can't resist touching germy surfaces or sticking things in their mouth. At the first sign your child isn't feeling well, you head to the medicine cabinet to combat their symptoms. While you help them on their road to recovery, don't let simple mistakes harm their dental health. Here are 4 tips you need to know to safeguard your child's smile from cold and flu season.
Oral Health and Flu Season
No matter how much you encourage handwashing, sanitizing, and wearing a mask, your child is bound to get sick. You have a supply of cold medicines on hand to target a variety of symptoms, like nasal congestion and coughing. Although they can provide your child with relief, many child medications contain sugars and added sweeteners to make them easier to get down. While you help your child feel better, your pediatric dentist has a few tips to keep their teeth and gums healthy:
1. Don't Skip Teeth Brushing
Your child may not want to get out of bed when they are feeling under the weather, but they still need to brush their teeth, especially if they have been vomiting. Instead of dragging them to the bathroom, bring their toothbrush and floss to their bed. All they need is a cup of water to keep their mouth clean.
2. Gargle Salt Water
Depending on your child's age, they can gargle salt water to ease their sore throat while also killing any germs lingering in their mouth. Gargling a cup of salt water once a day can get them feeling their best quickly.
3. Rinse After Medications
There aren't a lot of sugar-free options when it comes to children's medicine, so you'll want your child to get in the habit of rinsing their mouth with water after taking medications. Water will help remove cavity-causing residue from their teeth.
4. Encourage Plenty of Water
Children can become dehydrated quickly when they are ill, which can lead to serious complications for their health and smile. Nasal congestion can cause your child to breathe through their mouth, which will increase dehydration. As their body is depleted of water, their mouth will become dry, creating the ideal breeding ground for bad oral bacteria. You'll want to ensure your child is drinking plenty of water to stay hydrated.
Don't let cold and flu season affect your child's beautiful smile. If you have any concerns about their dental health or the oral effects of certain medications, don't hesitate to contact your dentist.
About Dr. Bob Koenitzer
Dr. Koenitzer regularly attends ongoing educational courses to provide superior dentistry to create generations of healthy smiles. After earning his dental degree, he received various awards for his clinical excellence. Dr. Koenitzer provides the comfortable care young smiles need to thrive. If it's time for your child's cleaning and checkup, contact our office today to schedule an appointment.
Comments Off

on 4 Oral Health Tips for Cold and Flu Season
No Comments
No comments yet.
RSS feed for comments on this post.
Sorry, the comment form is closed at this time.