May 13, 2022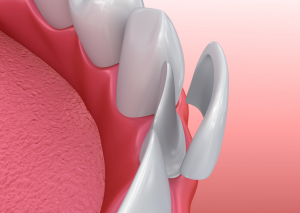 You can't put a price on the benefits associated with a beautiful smile. Unfortunately, not everyone wins the genetic lottery. Whether from your family genes, trauma, or neglect, veneers can give you a picture-perfect smile. However, they are a big commitment because your cosmetic dentist will need to shave off some enamel, which won't grow back. How much enamel needs to be removed for veneers in Petaluma? Not enough for you to worry about damaging your teeth. 
Application Process for Veneers
Modern veneers can last for a decade or longer thanks to the development of etching. Roughening the surface of a tooth creates a better bond, allowing a veneer to stay in place for many years with the correct maintenance. Not to mention, it allows the veneer to fit the tooth perfectly, so there aren't any unattractive or uncomfortable ledges.
While etching is a common practice in dentistry, it can raise some concerns for patients. Although your enamel is the hardest substance in your body, it can't regenerate. Once your dentist has removed it, it is gone for good. It's normal to have a few apprehensions about altering your teeth permanently, but there isn't any reason to worry.
How Much Enamel is Removed?
Today's veneers are thinner than ever, allowing less enamel to be removed during the bonding process. Although every case differs, your dentist will be as conservative as possible. Typically, ½ mm is taken off, but the amount can vary depending on your teeth, such as if they have deep ridges.
Despite losing some enamel, it doesn't harm the health of your teeth, but they must always be kept covered by restorations because they can be vulnerable to decay or sensitivity. You won't have to budget for replacements often by committing to your oral hygiene at home and visiting your dentist regularly.
Are Veneers Worth the Investment?
A little enamel is a small price to pay for the benefits you'll gain from veneers. You can correct several imperfections at once to transform your smile quickly. In as few as 2 appointments, you can have the smile of your dreams without needing an invasive or complex procedure. Overall, veneers provide various benefits, including:
Natural-looking results
Minimally invasive procedure
Cost-effective solution
Resolve several concerns simultaneously
Easy maintenance and care
Durable, high-quality materials
Long-lasting results
Best of all, you will enjoy a boost in your confidence to always look and feel your best. Whether you're embarrassed by stains, chips, or gaps, veneers can give you the attractive smile you deserve. Take your first step toward beautiful teeth by scheduling your consultation for veneers.
About Dr. Bob Koenitzer
Dr. Koenitzer earned his dental degree at the University of California at San Francisco and has completed extensive continuing education in many specialties, like cosmetic dentistry. Voted Best Dentist in Petaluma for 6 consecutive years, he has the qualifications you can trust to enhance your smile. Contact our office today to request your consultation for veneers.
Comments Off

on Do Veneers Damage Your Teeth?
No Comments
No comments yet.
RSS feed for comments on this post.
Sorry, the comment form is closed at this time.